ERP: Enterprise Resource Planning
Resource Planning for the Future
Click on a Topic to Learn More:
Enterprise Resource Planning Overview
Our partnership with Unit4 Business Software allows us to provide a complete logistics and financial solution to suit your enterprise's needs
Through our partnership with Unit4 Business Software, we are able to integrate our logistic and their financial solutions to provide a unique multi-level solution specific to your enterprise. The financial and resource planning tools provided by Unit4 work alongside the Humanitarian Enterprise Logistics Manager to create a flexible module to aid in your business' goals. With this added convenience, your enterprise is free to work harder towards it's most important mission of helping others.
Included in the ERP
Financial Management
Consolidation and cash management
corporate budgeting
financial reporting
travel and expense management
fixed asset management and more
Reports and Analytics
reporting and analysis suite
task management
analyzer
timelines
modeler
workflows
Project Management
Opportunity management
reference projects
project estimating and proposals
resource utilization management
project reporting
Field Services and Assets
estate and asset management
service order management
service agreements
asset inspections
service planning
mobile field service
Procurement
workflow process automation
web requisitions
electronic purchasing
automated expenditure controls
invoice management
HR and Payroll
talent management
position administration
resource administration
training and development administration
payroll management and salary review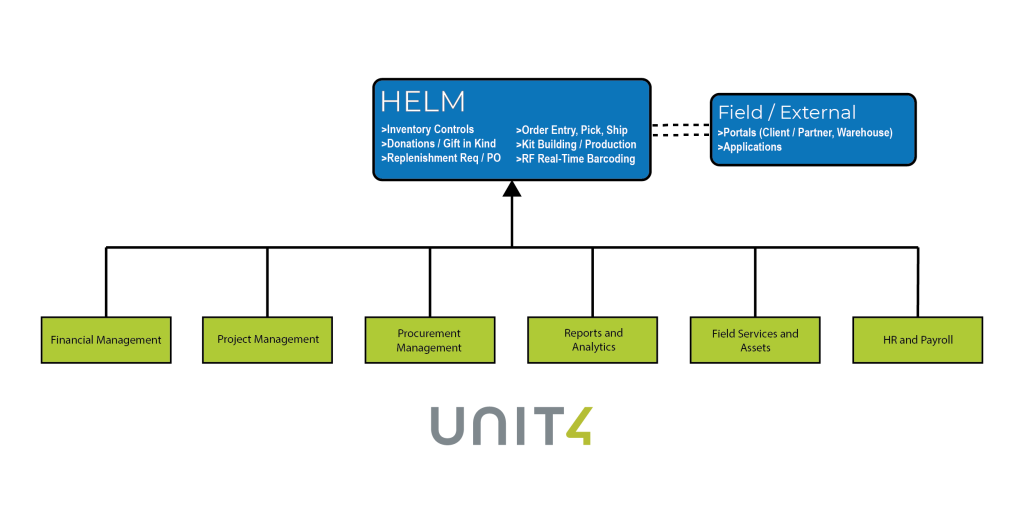 Through our partnership with Unit4, you can review your complete financial health at any time and streamline administrative processes with a vast array of tools to provide the greatest efficiency. By utilizing HELM alongside the business tools provided by Unit4, you can quickly respond to unexpected scenarios with real-time analytics and adapt to the ever-changing humanitarian environment in the most effective manner.
Keeping up with your company's finances is an integral part of any enterprise, but this is especially true in the humanitarian sector. Donors want to see where there money is going and be sure it's being utilized in the best possible manner. When using HELM in conjunction with Unit4, it's easy to visualize all of your intakes and expenditures related to a project so you can report back to your donors efficiently and conveniently.
The ERP is meant to expand HELM's framework to include all the financial tools necessary to create a unique logistic-financial solution that's capable of addressing any challenge in the humanitarian aid and disaster relief sectors.
Let's Talk!
Schedule a demo to get a look at all that Humanitarian Software can do for you.